Fresh, whole, plant-based ingredients in every product!
Kelly's Gourmet Cheezy Parm is a dairy-free, gluten-free, vegan cheese that can be used on just about anything. Salads, tacos, pastas, veggies, popcorn & more!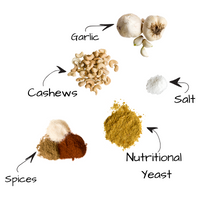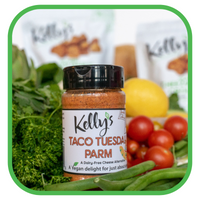 Taco Tuesday Parm
Taco Tuesady Parm is the perfect addition to tacos, nachos, burritos, salads, bowls, & so much more! 
SHOP NOW!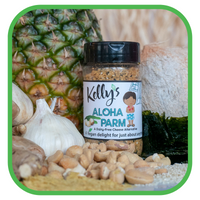 Aloha Parm
Inspired by Kelly's recent trips to Hawaii, she created the ultimate seasoning for tofu & veggies to make the perfect poke bowl! 
SHOP NOW!
Customer Reviews
Kelly's Croutons are so good that I always buy with the intention to put them on a salad, but I finish the bag before I ever get around to making the salad. Every single product is so amazing and flavorful, you can use it on almost anything! 

@priscillathecreator
I eat Kelly's Croutons straight out of the bag, as if they were chips! BEST SNACK EVER!! 

@vegetaryn
Kelly's Croutons are life changing. They shouldn't even be in the same category as normal croutons. They are cheesy, buttery, garlicky, delicious squares of pure addiction!

@kellymusgraves
I wish I had purchased 10 jars of Kelly's Parm in all the flavors - I'm almost out of the aloha parm and already filling up my online shopping cart! 

@briteats
Every product of Kelly's Croutons is absolutely delicious! I can eat their croutons right out of the bag! 

@nicolecartherine111